I never thought that there will come a time that I would be raving about Korean-style fried chicken.  I was able to try out several brands and I liked the taste until I've tried Clucky's!  It is so awesome that I've raved about Clucky's twice-fried cooked chicken to my friends already.  Somehow, Clucky's focus on quality has really paid off (for me at least!).
Clucky's is a new restaurant located at Rockwell Business Center.  Take note that this is located in Ortigas (not Makati) near Medical City.  Even though the main product of Clucky's is their Korean-style fried chicken, they have so much more to offer.  Their menu is extensive!  I must say after having tried most of their food items, I'm a fan.
Clucky's location is a bit out of the way for me — it is probably why I havent discovered them before.  I'm really blessed because as a blogger, I got invited to try out Clucky's specialties.  It was a super nice discovery that I'm so excited to share with you all!
Salad
I was able to try out two variants of Clucky's salads.  I noticed both of them have the same dressing, but each has distinct characteristics.  The restaurant was pretty generous with their serving and the homemade dressing was just heavenly!  For health-conscious people out there, you can choose to go organic by adding Php 25 to your salad order.
The type of fruits included in the salad varies from time to time (depends on the season & availability).  If you're sensitive with the type of fruits that you eat, it's advisable that you ask the server before you order Clucky's house salad.
Spicy Crabmeat Salad (Php 159)
The spicy crabmeat salad is for people who LOVE spicy food!  Seriously, I was pretty stoked when I had my first spoonful of the salad.  It was still the same homemade dressing used in the house salad but this time around, it was spicy!  The crabmeat was more then enough and you will surely feel your money's worth right after tasting this crab salad.
Clucky's Mad for Chicken
Clucky's is a partner of Mad for Chicken (one of the well-known Korean fried chicken brand in the U.S.).  The restaurant proudly serves chicken flavored with the sauce from Mad for Chicken. What sets Korean fried chicken apart from the typical American fried chicken is the way the chicken is cooked.  With Korean, the chicken is fried twice which results in the skin being crunchier and less oily.
Now, why do I like Clucky's over other existing Korean-style fried chicken brands in Manila?  Simple.  Clucky's does NOT use frozen chicken.  Their chicken are delivered fresh daily to the restaurant!  Honestly, I never thought that I could tell the difference since this is something customers usually doesn't know.  But yes, it is much more delicious!
There are two types of chicken available: Soy Garlic or Spicy.  [My favorite is the Soy Garlic Chicken! :)]
If you're the type who wants to quickly indulge in chicken goodness then you should get Clucky's tenders.  The order consists of 6 pieces of chicken breasts strips coated with Mad for Chicken's authentic Korean sauce.
Wings – Small (8 pcs) at Php 229, Medium (16pcs) at Php 449 and Large (24 pcs) at Php 669
Drums – Small (4 pcs) at Php 229, Medium (8pcs) at Php 449 and Large (12 pcs) at Php 669
Combo – Small (4wings & 2drums) at Php 229, Medium (8wings & 4drums) at Php 449 and Large (12wings & 6drums)  at Php 669
I love to eat Clucky's Chicken with its bones!  During the food tasting event, I was dying to eat the chicken already.  I had to wait for the bloggers to finish taking pictures.  The smell of the newly cooked chicken was killing me that time!
On my first bite, all I had to say was 'Grabe! this tasted sooooooooooooo good!'.  The skin was uber crispy and so tasty!  Boy, the chicken meat was also tender!
I found out that there is actually a way for us to know if the chicken was fresh or not.  If the bone is colored-dark, then the chicken has been frozen.  As you can see in the photo below, Clucky's chicken bones was light-colored proving that it was indeed fresh!  See how clean those bones were?  Yes, we finished every single piece of chicken served to us!
Sides
Clucky's has items for sharing like Calamari & Parmesan Fries.  You know even for just simple menu items, I could tell that time was spent to perfect the dish.  For example, Calamari, which is lightly-breaded and at the same time, less greasy!  The taste is now focused on the squid itself and not the breading.  The parmesan fries, on the other hand, was a favorite among the guests that night.
Parmesan Fries (Php 49/Php 79)
Clucky's Meals
All Clucky's Meals include 12 oz Soda or Iced tea.  You can add Php 10 to upsize your drink to 22 oz.
The Bulgogi & Kimchi meals can be a good combo with your order of Clucky's Mad for Chicken.  Some people prefer to eat chicken with rice.  Since Clucky's chicken is Korean-style, then the rice definitely is of the same kind too!
The Chicken Burger meal is a complete meal in itself.  It has a bit of everything — the yummy Clucky's Chicken Tender strip, the sandwich bun which serves as your carbohydrate, and parmesan fries on the side.
I find it fascinating that the pricing are affordable considering the serving & quality of the food.  I can attest that every single dish that I tried out was good (no joke!).
Three options to choose from: chicken, sausage and tofu.
Chicken Burger Meal (Php 115)
Add P25 to upsize to large fries.
Drinks
As far as I can recall, Clucky's is the only fast food restaurant that served premium brewed tea.  I loved it, very refreshing!
Red Horse (Php 40) & Stallion (Php 35)
For the boys, beer are available.  Clucky's has a promo wherein you can get a bucket of San Miguel Light (6 bottles of beer) at Php 180.
Dessert
For dessert, Clucky's has the creamy Homemade Premium Gelato, made with the fresh ingredients!
There are 5 flavors available: Dark Chocolate, Coffee Choco Crunch, Oreo Cheesecake, Banoffee and Mango Sorbet.  We were able to sample them all and among them, I loved the Mango Sorbet (made from fresh mango puree) & the coffee choco crunch!
The owners are currently looking for people who want to Franchise the brand.  I hope they can either open more branches of Clucky's or get franchisees ASAP so that more people can discover and love Clucky's Mad for Chicken!  I wish they would open a branch in Makati, Fort or Quezon city so that it's more accessible.
For now, its yummy chicken goodness is mostly being enjoyed by people who work at Rockwell Business Center and nearby buildings.  For a minimum order Php 300, their food will be delivered for free!
I couldn't forget the food but I also couldn't forget the cheerfulness of the staff!  The service was top-notch!  I was so impressed that I actually thought that Paolo wore a matching outfit so that he could fit in, hahaha!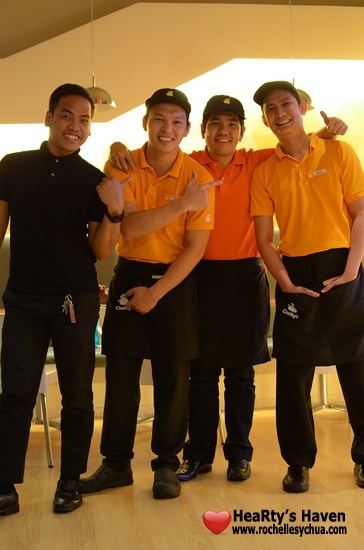 I'm dropping by Clucky's next week to get myself a Large order of Wings & Drums combo for take out.  I can't wait!  See you soon Clucky's! 😉
——————–
Clucky's
G/F Tower 2 Rockwell Business Center, Ortigas Ave., 1600 Pasig City, Philippines
+63-2-2341401
Monday to Thursday & Saturday -7am to 10pm, Friday – 24 hours :D, closed on Sundays