The last place we went to in Puerto Princesa, Palawan before going back to Manila is Binuatan Creations.  Binuatan Creations is a well-known handicraft shop that manufactures handloom woven products utilizing Palawan's indigenous fibers.
The goal of the company is to transform field grasses and fibers that can be found in Palawan into useful and functional products.
Seeing the people in action makes me really appreciate what they are doing.  As expected, Binuatan Creations is very successful that they get their products exported to other countries like the U.S.A.
Weaving Area
Visitors of Binuatan Creations can observe and even experience how the products were made.  The personnel were more than kind to answer all our questions.  They shared with us the process and showed us what the raw materials were.
The grasses and fibers that are being used in creating the beautiful hand loom woven products are the ff.: field grasses, amumuting, buri (palm tree), buntal fibers, buri sticks, coconut ginit, tikog grass, vetiver grass, arena grass, banana, daninel grass, florida grass and isay grass.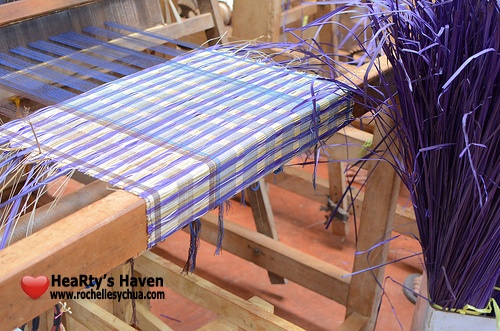 The process in making the products:
grasses being dyed into desired color.
drying.
dyed buntal fibers.
warping of threads to be used for weaving.
harvesting of threads from warping frame.
setting in of threads into the looms.
drawing of threads through heddle wires and reeds.
weaving.
finishing and cutting of woven materials.
packaging.
Judging from the list of tasks to be done.  It seems that each product are made at least 2-3 days.    I came out of Binuatan Creations so appreciative of the products that are being manufactured there.
The Shop
Then, we went inside the shop where the products are being sold.  There are so many products on display.  Every item is so nice to look at.  The prices might be on the expensive side but how it was created and the long process explained why it is so.  The hand loom woven products are surely made of high quality too.  We saw how it was made ourselves.
Every item you buy in this shop is truly world-class.  You get your money's worth.
Binuatan Creations Handloom Weaving products include: placemats, table runners, wall finishing & window blinds, key chains, bags, handy bags, notepads, wallets, coin purse, hats, curtains, split curtain, arranged grass flowers and slippers.
What a nice way to end my trip to Puerto Princesa, Palawan.  It surely leaves me with so much good memories.
——————–
Binuatan Creations Handloom Weaving
Pajara, Sta. Monica, Puerto Princesa City, Palawan, Philippines
(048) 433-7630