Museo Ning Angeles is the first place I went to in Angeles City, Pampanga.  The first thing I noticed is that the people are so warm and accommodating.
Located at the center stretch of the historical Old Rosario street, Museo Ning Angeles is an asset of Angeles City.  It became the chosen place for events like exhibits, concerts, art classes and other traditional celebrations.  Actually, I visited Angeles City for their Fiesta Kuliat 2011 and there we were, at Museo Ning Angeles. 🙂
Built in 1922, it was built as a town hall.  Later on, Museo Ning Angeles was converted to a museum.  A museum that features the history and culture of Angeles City and its people.
Inside the museum is Balikdan.  The section is all about understanding Angeles City's history, knowing the things that happened from past to present.  The history was narrated through a series of photos, illustrations and memorabilia.  It's a great way to understand the history considering the great visuals.  Our tour guide was of awesome help too as he was so lively.
Another great section of Museo Ning Angeles is the Dioramic Scenes of Kapampangan Traditions.  Inside are basically dolls depicting traditional town life in Pampanga.
The dioramas were created by fashion designer Beatriz Pamintuan Tesoro using her nenita dolls dressed in beautiful Filipiniana outfits.  Filipino traditions like the Kusinang Kapampangan, Pascu na, Fiesta, Mandiriquit, Market Day and Illustrado Wedding were displayed.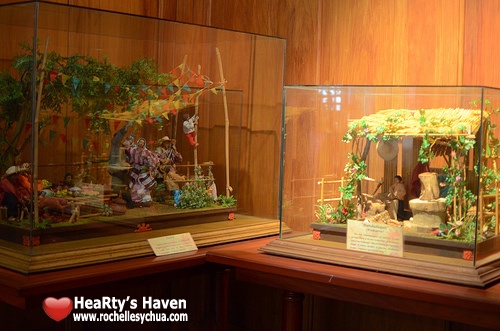 Other sections include Reynaldo G. Alejandro Culinary Library which is made to honor Alejandro who was an advocate of Filipino arts and culture.  He donated some of his book collection to Kuliat Foundation in support to the foundation's goal to preserve Kapampangan food heritage.
Culinarium, on the other hand, is located at the 2nd floor.  The section is dedicated to Kapampangan food heritage.  It was there where we had the Pamangan Piyestang Kapampangan wherein we've enjoyed so much Kapampangan delicacies.  Culinarium also showcases kitchen exhibits and living kitchens.  More on my post about the delicious Kapampangan buffet.
Museo Ning Angeles is open mondays till saturdays from 9AM to 5PM.  You can set an appointment if you want to visit at nighttime or on sundays.  I do suggest you get a tour guide as you'll surely learn a lot about the history of Pampanga with someone who knows a lot about the heritage and culture.
——————–
Museo Ning Angeles
9am to 5pm
Sto. Rosario street, Sto. Rosario Historic District, Angeles City, Philippines
(045) 887-4703