I LOVE pares!  It might come as a surprise to people considering the ambiance of Pares house but it has always been one of my favorite food!  However, there's one particular Pares Mami House that I frequent to and that's the one located at Retiro Street, Quezon City.  To be completely specific, the name of the restaurant is The Original Pares Mami House.
The Original Pares Mami House is open 24 hours a day, 7 days a week.  So just in case any of us crave for pares, we can always go there.  And you don't have to worry even if you go at wee hours of the day, because the place is jam-packed anytime of the day, any day of the week.  I've been there evenings, midnights and even early mornings, and every single time, there was always lots of people.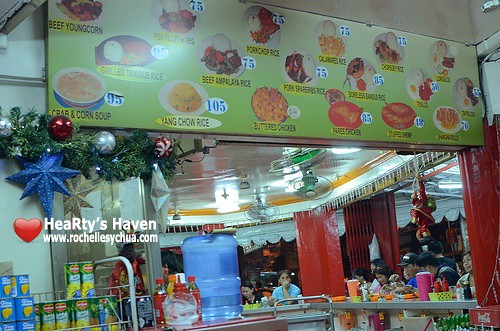 You'll see people from all walks of life.  Whether from class A, B, C or D, they are all there to enjoy the yummy, affordable food in the Original Pares Mami House at Retiro.  If only we can see that kind of unity in our government, anyhow, that's a different topic altogether.
Considering how the turnover of the restaurant is, it seemed they have perfected their restaurant process.  The establishment was pretty efficient in their service.  They get orders fast, they serve food pretty fast too and the billing process was slick!  They have numbers allotted for each guests.  Even how they clean plates and utensils was impressive too!
As for food, I always order the same thing at The Original Pares Mami House.  Pares will always be part of it and when I get hungry again, I'll order additional food items like stuffed shrimp, campto and chicken.  Yes, they are all good and I'm happy that they are not so expensive.  Though I think their prices are getting higher and higher, I guess they get that they have tons of loyal customers.  I hope they don't raise prices that often coz I might change my mind in frequenting them.  Though I must admit, their pares is just too irresistible! 😀
Pares in english is "pair", a dish that is composed of braised beef, soup and fried rice.  It's a dish that, as far as i know, originated in the Philippines, a dish we can truly call our own:)
Pares' braised beef is sweet and I love how soft the beef is.  The soup is made with beef stock mixed with the braised beef sauce, locally known as loto.  This is oh so yummy and I'm sure it'll always be something I crave for often.
Oh my, I'm craving for Pares again!  Now to drive to Retiro street.  This is it!
The Original Pares Mami House has soft drinks, buko juice and water for ordering.  I, however, always choose to order Coke!  Sarap eh!  I can drink coke for one whole day and still feel thirsty for it!  Maybe Coke has a love potion in its drink that most of us consumers can't seem to stop drinking it!
Campto Soup with Rice (Php 88)
Campto is a stew of pork strips flavored with garlic and spring onions.  It is comfort food at its best.  If ever I still get hungry after finishing an order of pares, this will be my second choice.
Campto with rice is at Php 88.  If you wanna order ala carte, it costs about Php 70.
Buttered Chicken (Php 140)
I ordered The Original Pares Mami House's Buttered Chicken as I was curious to find out if they cook chicken as deliciously.  Well, I wasn't disappointed at all!  I love how they cut the chicken into small pieces and put the right amount of breading.  There was ketchup available but I ended up just eating it as is.  I super liked the taste considering it was newly cooked.  If I estimate it correctly, one order of this is equivalent to half the chicken.
My friend ordered this when we had breakfast at Pares.  I somehow felt that Php 80 is a bit high for a small bowl of chopsuey.  But since this has been ordered, I tried it anyhow.  It's a normal combination of vegetables.  A good option to have variety in your meal.
When I first tried out stuffed squid at the Original Pares Mami House, I was completely shocked.  I actually thought it looked like tempura.  However, I didn't even notice the shrimp at all hahaha!  It looked more of an embutido than a stuffed shrimp.  But still, it's a good side dish for our favorite pares!
If you go to the restaurant, you'll see almost everyone ordering the stuffed shrimp 😛
My plates will always be empty whenever I go to Original Pares Mami House.  Yes, I'm always hungry whenever I visit the place.  Empty bowls and plates FTW after every pares meal.  Satisfying!!
See how happy our faces where after we had our breakfast at Pares yesterday.  After burning calories while jogging, we ended up filling up so much food in our tummies hahaha!
——————–
The Original Pares Mami House
PARES-RETIRO (NS Amoranto (Formerly Retiro St.) cor. Dr. Alejos), Barangay La Loma, Quezon City, Metro Manila 1114